Invest in yourself
A dollar spent on yourself, is a well-spent dollar..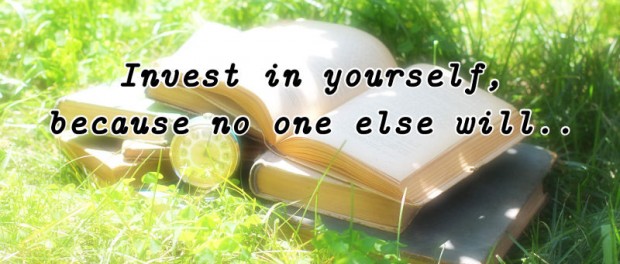 "investing in yourself is the best investment you will ever make. it will not only improve your life, it will improve the lives of all those around you." -Robin Sharma
Couldn't have said it better myself.
If you want to improve yourself and get success in life you have to stay ahead of the competition and constantly evolve, bringing new mindsets and getting better ideas.
Unless you have several mentors around 24/7 to coach you and teach you new mindsets, you will have to supplement with the next best thing:
Knowledge in the written or recorded form.
Read a lot of books, watch a lot of videos, listen to a bunch of audiobooks.
This is the next best thing after getting a mentor that is above your level and can teach you the important stuff.
For ages, people have been putting down their life's earned knowledge, so that you, yeah YOU, can read it and learn from their mistakes and successes.
"But buying books and personal development programs is expensive…"
Well maybe you should invest a little bit in yourself and your development.
People think that personal development is expensive, I'll tell you what is expensive: Working the same job just to make rent and living an unfulfilling life. Money invested in yourself is never a bad investment, unless you spend 2000$ on some hack's success course.
You should consider what your own health and well-being is worth: living a life where you don't know what to do or how to do it will eat away at you bit by bit.
So instead educate yourself and learn something related to bringing happiness and success to your life.
"The more you learn, the more you earn" – Frank Clark
Also consider the amount you spend on other things here in life, a drink at the bar will usually run around the same price as a book. If you drink coffee from starbucks every morning, try to brew your own coffee instead and spend the money on books and your own development.
There are so many places in your daily life where you spend money that doesn't bring you anything more than momentary pleasure. Investing in yourself will bring long-term pleasure.
Read also: Perfect takes time..
Some of the best ways to invest in yourself
Buy books that are proven through the ages to be full of important information for reaching success:
Test self-development programs that are not too expensive. If a program is more expensive than 100$ make sure to check if the person offering the program is an authority person in the field, or if he just is an internet marketer trying to scam you on your hard earned dollars.
One of the most value-packed programs I've tested so far is the 67 steps by Tai Lopez
Get an Audible membership, it's subscription based and you'll get 1 book/month for 15$, If you get the "Platinum" subscription you'll get 2 books a month for 12,5$ each. If you're smart you'll use these credits for the more expensive books 😉
I'm myself on the Platinum plan and I greatly enjoy being able to select 2 new books a month.
They also have amazing sales where you can get books for as little as 4$ per book. When they have these sales I usually spend 50-60$ in one go to load up my library on books.
When you have some extra time to kill, but not enough to fully dive into a book to extract the information, you can always checkout Blinkist to really get the gold-nuggets out of books. Blinkist is basically a service where they provide summaries of books' main ideas into "blinks" which take 15-20 mins to read. It requires that you read it a bit more thorough though since everything presented is "important"
Get a gym membership and start working on your health. With a healthy body comes a healthy mind. Learn about nutrition so that your brain has the correct fuel to take you through the day.
What will you do to invest in yourself?